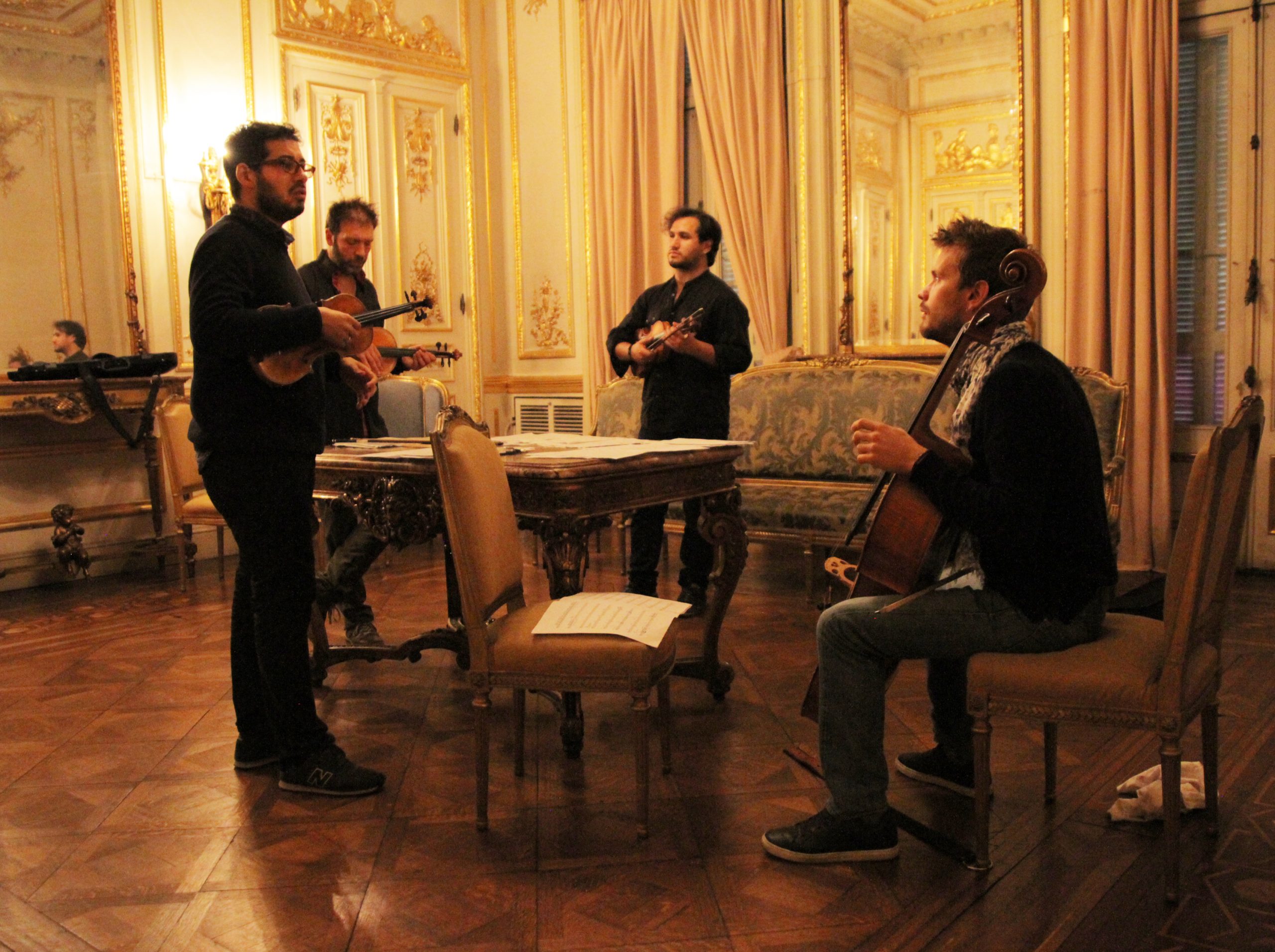 Our History
---
Rodrigo Bauzá and Federico Nathan met as young violin students in Uruguay back in 2001 and remained in contact during the following years although they were living in different European cities. They shared an interest in both classical and popular music and after spending ten years studying and building careers for themselves in both fields, they set out together to find like-minded musicians in order to found a new kind of string quartet. After meeting cellist Guillaume Latil and violist Mara Tieles, they founded the Cuareim Quartet in 2013 and began giving by concerts and master-classes at the Festival Instrumenta in Oaxaca (Mexico). Since then, they have given many concerts in France, Spain, Germany, Uruguay and Argentina. 
While the focus of the four musicians is on contemporary jazz and improvised music, they eagerly embrace a wide variety of aesthetics and styles. The four musicians play original compositions and arrangements, hoping to break new ground by combining their very different backgrounds and experience in different genres
The quartet's first CD Cinco, recorded in 2015 with internationally acclaimed multi-instrumentalist Marcelo Moguilevsky, contains new songs by Bauzá, Nathan and Moguilevsky. The recording was warmly acclaimed by the press and elected "recording of the year" by the newspaper La Nacion in Argentina. The quartet presented the CD in Europe and South-America with Moguilevsky in 2015, including concerts at the Centro Cultural Kirchner and the Teatro Amihai in Buenos Aires as well as a lunch concert at the Berlin Philharmonic.
In 2016, the quartet were invited to play as soloists with the Orquesta Nacional de Musica Argentina. They were offered a unique opportunity to compose new pieces for a string quartet and symphony orchestra. The Cuareim Quartet, now playing with violist Olivier Samouillan, enjoyed the experience enormously and is looking forward to many new projects in the upcoming year.
---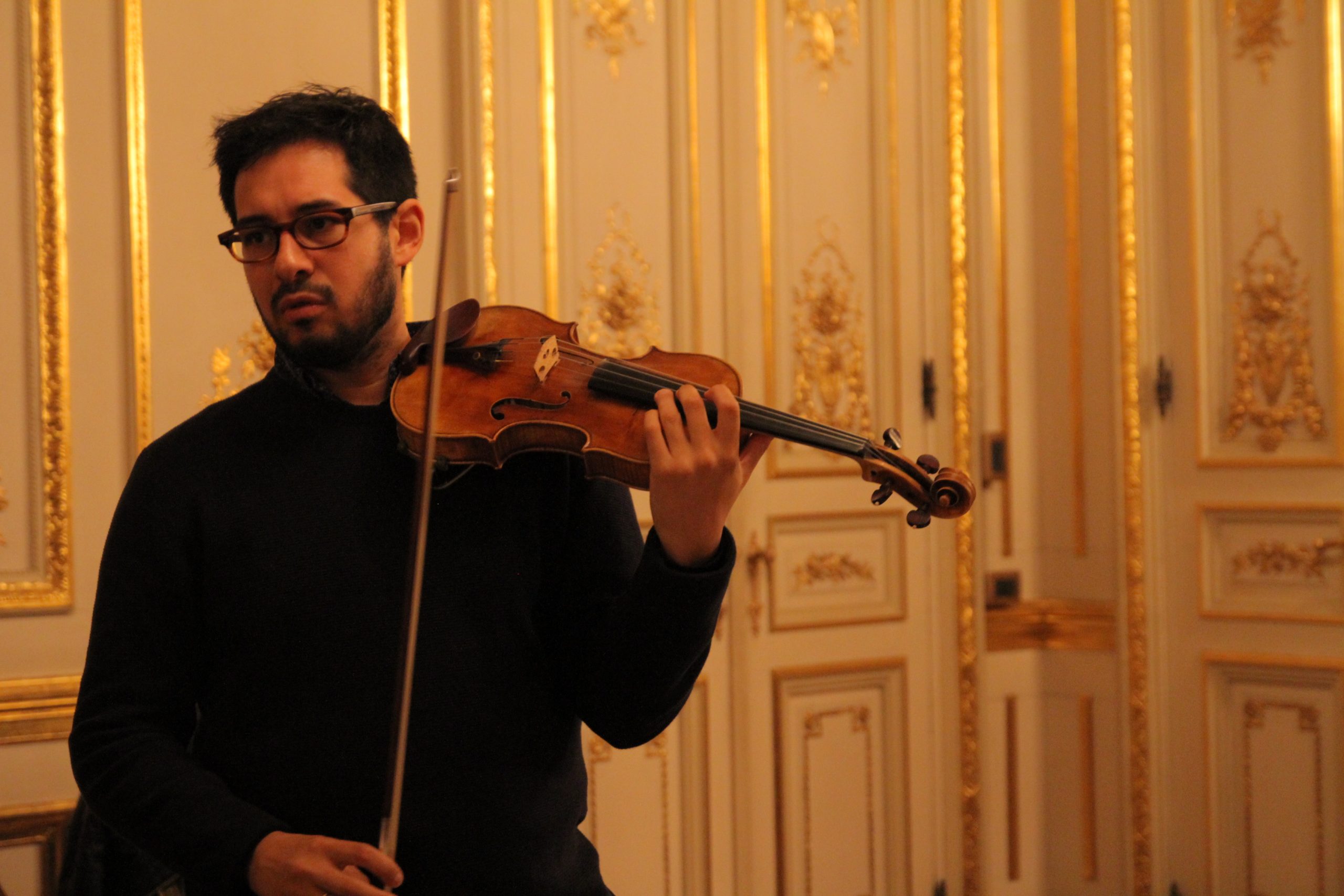 Rodrigo Bauzá
---
Violinist and composer Rodrigo Bauzá was born in Formosa (Argentina) and began studying the violin in Uruguay and Argentina with Jorge Risi and Ljerko Spiller, later continuing in Germany with Mariana Sirbu at the "Hochschule für Musik und Theater" in Leipzig.
Rodrigo Bauzá has a varied and rich performing experience, ranging from classical music to jazz, Argentinian folk, and tango. He began improvising and playing popular music at a very young age in Argentina and continued to do so in Europe. While studying in Leipzig, he took lessons with Pr. Richie Beirach.
As a classical musician, Rodrigo Bauzá was a member of the Gewandhaus Orchestra Leipzig for several years and has been a member of the Rundfunk-Sinfonieorchester Berlin since 2014. He has played chamber music with such distinguished artists as Christian Zacharias, Caroline Widmann, Jean-Francois Heisser and Marie-Elisabeth Hecker, and for several years was a member of the Cuarteto Arriaga, with whom he performed frequently all over Europe, South America, and Asia. The Cuarteto Arriaga have given concerts at the Wigmore Hall, the Schleswig-Holstein Festival, the Folles Journées de Nantes, and the Quincena Musical de San Sebastián. They were also invited to the Kammermusikfest Lockenhaus by Gidon Kremer, and performed at the Palacio Real in Madrid on the famous Stradivari instruments belonging to the Spanish Royal family.
---
Federico Nathan
---
Violinist and composer Federico Nathan was born in Montevideo, Uruguay and began studying violin in his hometown with Nelson Govea. From an early age, Federico showed an interest in improvisation.
This led him to perform in a wide range of styles, including tango, jazz and rock, while continuing his studies in classical music. At the age of 14, Federico made his first appearance as a soloist with the Sodre Symphony Orchestra and Montevideo Philharmonic Orchestra, creating a very a successful show named "Jazz Philharmonic" that was acclaimed by critics and audiences in Uruguay.
He is currently working as principal of second violins in the jazz symphonic orchestra 'Metropole' in Holland, having performed with artists such as Joshua Redman, Robert Glasper and Raul Midon, to name a few. As a composer, his works have been premiered in several countries, such as France, Argentina, Spain, Germany, Uruguay and the United States.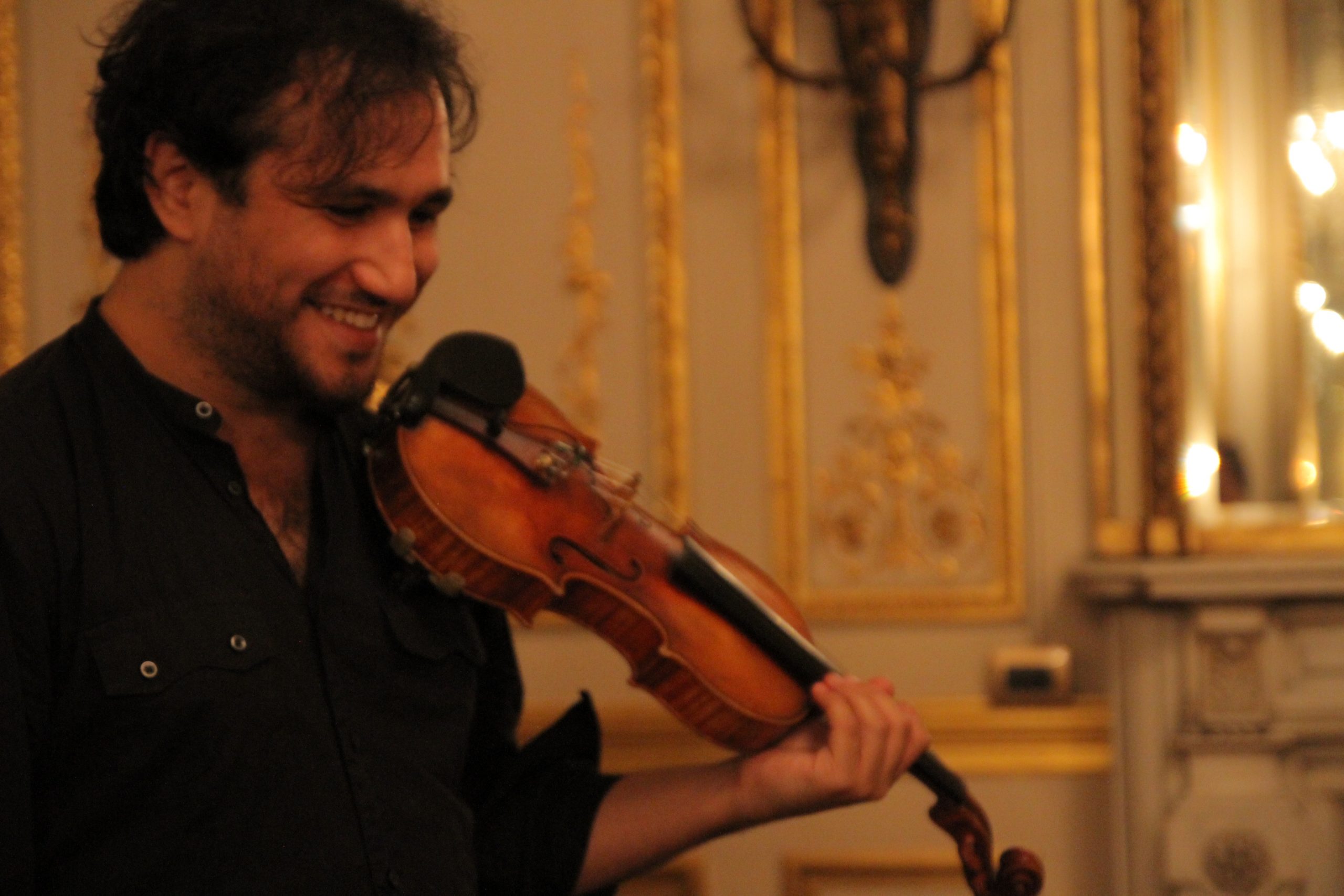 ---
Olivier Samouillan
---
Composer and violist Olivier Samouillan studied viola at the Toulouse conservatory and at the "Berklee College of Music" in Boston (USA). From 1998 to 2001, he lived in New-york, working as a jazz musician with his own ensemble projects.
In 2001, he moved back to Europe, started to play with the Philharmonic Orchestra of Macedonia and integrated the "Project Zlust" band, with which he explored the great musical tradition of the Balkans. At the same time, he started composing music for documentaries, fiction movies and animation movies
In 2007, he started working with the Label "Cezame Music Agency" in  Paris, writing music for television and film. In 2012, he created his own label "Art Melodies" and founded Editions Olivier Samouillan. As well as his activity as a composer, Olivier continues to play jazz, folk and classical music with many different ensembles. In 2015, he started to play with the Orchestre Mozart in Toulouse and since 2016, he was invited to join the Cuareim Quartet.
---
Guillaume Latil
---
Guillaume Latil lives in Paris where he works as a cellist, arranger and composer. He started his cello studies at Chantal Darietto's school in his hometown of Marseille and later graduated from both the Marseille and the Boulogne Conservatory where he studied with Xavier Gagnepain.
As a classical cellist he has performed as an extra cellist at Marseille Opera House and the Avignon orchestra, but he soon became interested in Jazz and improvised music. In order to develop his own language and style beyond the bounds of classical playing, he joined the school of jazz-violinist Didier Lockwood in Paris. A few years later, he performed with Lockwood at the Fes Festival in Morroco and the Marseille Opera House.
Guillaume Latil has been playing with guitarist Anthony Jambon in the "At Home Duo" for several years, performing in clubs, theaters and festivals around France such as the Festival "Cello Fan" (Calian), "Jazz sur la ville," (Marseille), "Sons-Neuf," (Paris), "Violoncelle en Folies" (Briançon). The duo has just released a new CD, "Ephémère," featuring pianist Leonardo Montana. In 2015 and 2016, he played a number of concerts with the André Manoukian Quartet, and he is has been a member of Cuareim Quartet since its creation in 2013. He also performed with Nach for several years, playing on stages like the Montpellier Arena and the Zénith in Toulouse.
As well as his performing career, Guillaume is interested in teaching. From 2009 to 2011 he gave lessons at Didier Lockwood's music school (CMDL) in Paris. He is regularly invited to teach in workshops and at conservatories to encourage string players to discover, through improvisation, a different approach to their instrument.